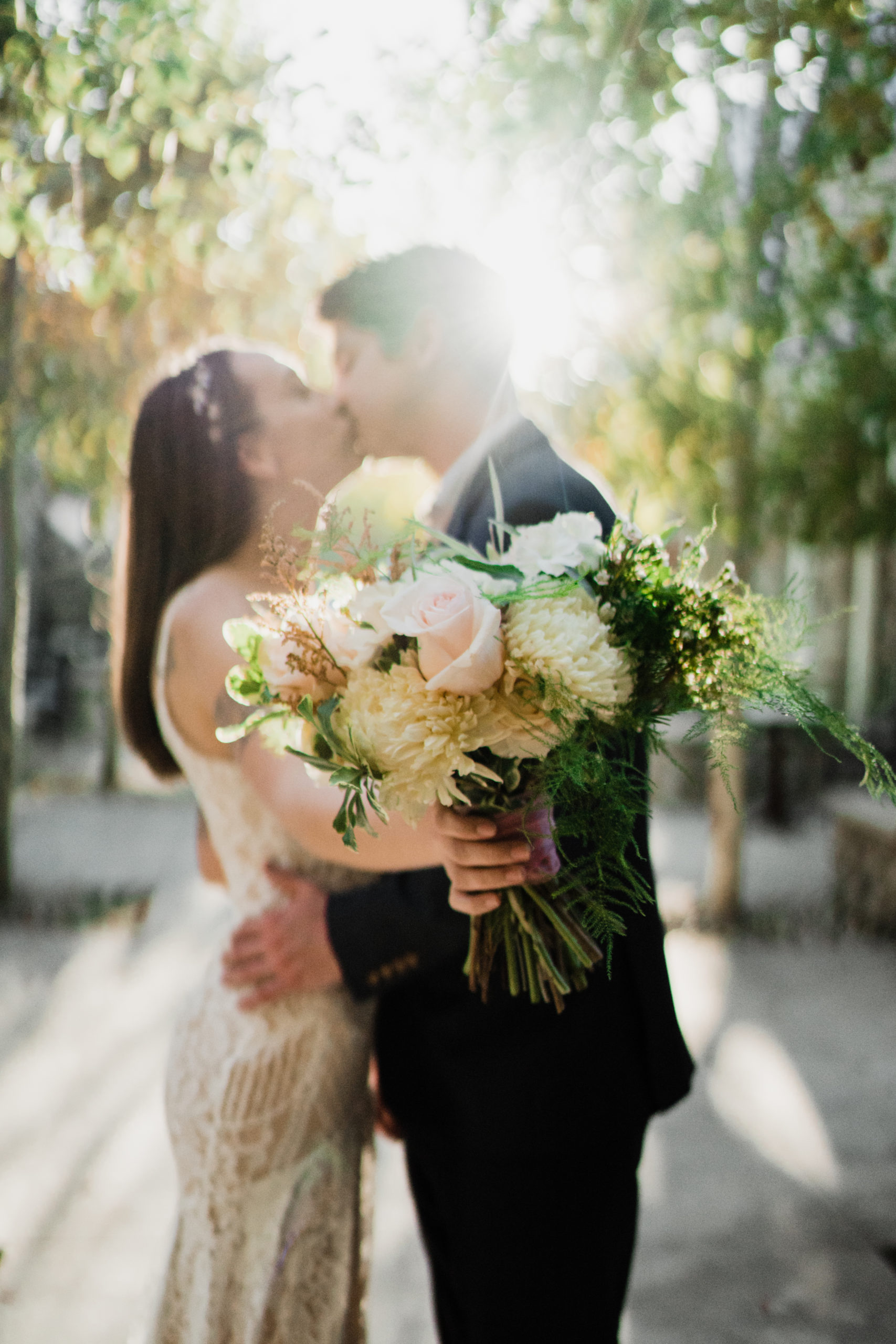 Wedding Flowers

We at Phytology Flowers work directly with the wedding couple to make a unique floral setting for their rehearsal dinner, ceremony and reception. Hannah, our owner and head designer's background is in counseling and horticulture making her extremely proficient in attending to the needs of the client. Whether incorporating grandma's brooch, your specialty glass collection, or paper airplanes into your wedding, We can make it possible.
We strive to be ecologically conscious when designing our weddings and events. Whenever possible we incorporate growing arrangements, locally grown flowers, and upcycled containers in our designs.We compost all excess flower material to help keep with our view of locally grown and sustainable product use. We are working on going floral foam free, which sometimes adds more time and cost into our arrangements, but we believe that this is import as floral foam's environmental impact is not sustainable.
We are comfortable working with most budgets and can work with the most frugal to the elaborate. We can deliver to your wedding in the Salida and surrounding areas. We have connections in wedding planning, photography, hair and make-up, stationery, venues, catering and contract with other freelance florists for collaboration for big weddings. Contact us to set up an initial appointment for your Wedding Flowers.

Comments and Thank You Notes:
"Hannah was amazingly easy to work with throughout the wedding process. My main goal was to not have to worry about anything BUT I also knew that my grandma had her heart set on helping put the small vases of flowers together. Hannah was able to accommodate this. With just a couple of meetings, some emails and letting Hannah browse my pintrest ideas she put together the most amazing flowers, they were perfect! With all of that she made corsages, beautiful bouquets, centerpieces, flowers to hang over a stage AND she saved the small vases for my grandma and aunts and helped them fill them before the wedding; this was the most special thing she could have done. For my main bouquet she listened to my heritage and my family ties including a thistle for a grandmother passed before my special day. I really appreciated that Hannah was cost conscious and eco-conscious, letting me use recycled vases that my mother collected from thrift stores. My experience with Hannah was an A++ one!" -Comment from Shivaun Hoyl Bride
"I just wanted to write you and say how happy Erik and I were with all of the flowers, table set ups and bouquets. You captured my vision completely. Family members were fighting over what they could take home at the end of the night. Our house is still fragrant and beautiful with what we have dispersed all over. Seriously, wow! The flowers were a highlight for sure." – Janelle Langeteig Bride
"Hannah, the flowers were absolutely perfect! Thank you so much for all your work! I will ABSOLUTELY recommend you to all my friends getting married!" – email from Susan Hayes Bride
"We just had our daughter's wedding at Taharaa in Estes Park. It was the most gorgeous setting ever, but the final touch was the beautiful flower work. We were so amazed at the work Hannah did with our flowers. My daughter met with her, and I only talked with her remotely from New Hampshire and she was able to practically read our minds as to what we wanted as the perfect arrangements and bouquets and corsages. She did exactly what my daughter had dreamed of having. She was so pleasant and helpful to work with and extremely prompt in putting together quotes and contracts. We made several changes along the way and she was most patient and helpful whenever we did. Her prices were so reasonable and she arrived at the site early to place all the arrangements in the appropriate spot. We would recommend her to anyone for any occasion because she is truly a professional in every sense of the word, but most importantly, a people person that was so wonderful to work with. Thank you, Hannah for a superb job." – Ann Hayes
"Oh my God Hannah, Amazing! Wow! Brought me to tears in the best way ever!" – Amy Landry (Bride), a text after seeing her flowers
"Hannah – I can't thank you enough for the amazing flowers you provided for our wedding. The bouquets, centerpieces, aisle arrangements, arbor arrangement and rehearsal dinner centerpieces all exceeded our expectations. The look you helped us to create could not have made us happier. We will always be grateful for the expertise, professionalism, and patience you gave us. You went above and beyond what we could have even expected. Thank you so much!" – Candice Derks-Bride
"Hannah's flowers were absolutely STUNNING. We couldn't have been more happy with how they turned out and highly recommend her for any couple looking for gorgeous, unique flowers for their wedding!" – Brianna Handy – Bride
Save
Save
Save